Prof-Edit is owned and operated by Teresa Nolan Barensfeld, who has been an editorial professional since 1991. She can also call upon a team of highly skilled and experienced professionals for assistance on large copyediting projects.
Located in beautiful Columbia County, New York, we are connected to the world via high-speed broadband Internet. We can handle any size project, large or small, from anywhere in the world.
The banner photo is from Teresa's neck of the woods: view from above the Indian Ladder Trail at John Boyd Thacher State Park in New York State, near Albany. Photo by Deirdre Malfatto.
About Teresa Nolan Barensfeld
I have a BS in mathematics and computer science, summa cum laude. When I began editing and proofreading in 1991, I specialized in my college-major fields, then expanded into various subjects, including STEM (science, technology, engineering, mathematics), the social sciences, political science, and others. I have since added fact-checking and project management to the services I offer. I love editing because I learn something new every day and help authors convey their ideas clearly and effectively. Before my editing career, I worked as a computer analyst for Morgan Stanley, a business manager for a woodworking company, a tax preparer, and a designer-sewist.
I am a long-time member of the Editorial Freelancers Association (EFA); I am currently the co-leader of the EFA's Upper Hudson chapter and have served as a member-at-large on the EFA Board of Trustees and a speaker at various chapter meetings. I am also a member of ACES (American Copy Editors Society). Outside of editing, I serve on my town's Parks and Recreation Committee. In my spare time, I enjoy using my sewing and design skills to create quilts, apparel, and other textile arts.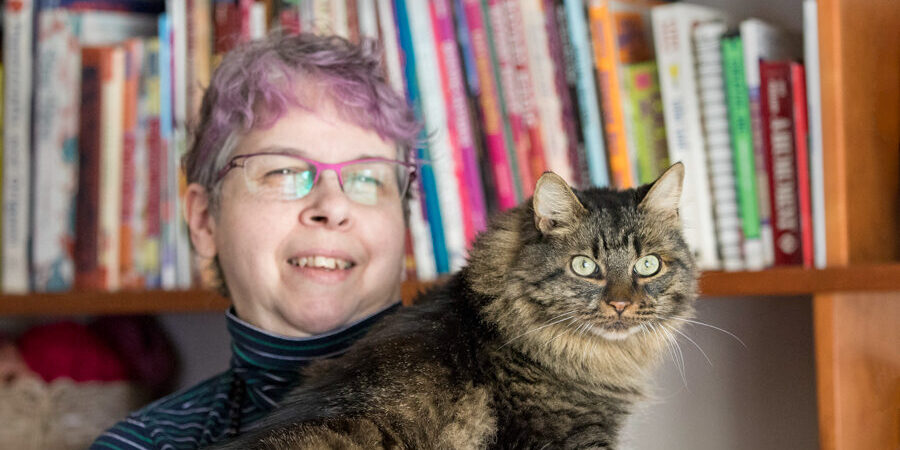 Education
Cornell University, Pace University
Bachelor of Science, summa cum laude
Editorial Work
General fields: the social sciences and STEM (science, technology, engineering, mathematics).
Specialty fields: brain science, computer science, economics, energy, education, fire science, foreign relations, healthcare, international relief, linguistics, materials science, political science, social work.
Professional Affiliations
Editorial Freelancers Association, member and chapter leader
American Copy Editors Association (ACES), member
Professional Development
Communication Central Conference, attendee
Recent courses: Referral webinar, Word Macros course, Inclusive Language webinar, Contracts webinar, e-Books course
Testimonials
"Thank you very much for this fantastic edited version of my article for SAPD and for the helpful information that I will use as I respond to these queries ...  thank you again for such wonderful editing."
Deondra Rose
Author, Studies in American Political Development
"I just wanted to thank you for the work you did on the [report] and tell you how much I appreciated the quick turnaround. . . . Happy holidays and best wishes for a wonderful new year! I look forward to working with you again." 
Carol Ballistreri
The College Board, NYC
"I got the [edited] files and ... it looks great. I know it was a big project! I'll let you know as soon as I have something else for you."  
Tony Quinn
PennWell
"Congratulations for your work on this somewhat troubled project. Rave reviews to you from Microsoft ... thanks again!"
Curtis Phillips
Publishing.com
"I have been very pleased with Teresa's copyediting on two journals on which I work. She is very conscientious and meticulous. She raises relevant queries and suggestions and keeps a style sheet, which she regularly updates. Her language skills are excellent. Teresa also has a very pleasant personality and is easy to work with."
Jonathan Geffner
Production Editor, Cambridge University Press
"Thanks for your work—it was a big help in a very busy time for me."
David Fogarty
McGraw-Hill Professional Books
"Thank you so very much for the wonderful exponents catch. . . . That was an excellent catch and would have looked odd if it wasn't changed. I am glad that we have you on our team."
Sharon Branson
Voyager Expanded Learning, Inc.
"As this was our first time outsourcing the Yearbook proofreading, we couldn't have made a better choice to do the job. Thank you so much, and we will send you bid requests again in the future."
Michele Charbonneau
Rockefeller Institute
"I'm glad you're able to take this job on; you did a really wonderful job for us last year."
William Fogarty
The College Board, NYC
"Let me add my thanks. . . . We are most grateful to you for calling this matter to our attention so that we could revise our JHQ style sheet."
Barbara Hofmaier
Journal for Healthcare Quality
"We're impressed by your very meticulous work which will make our manuscript so much better."
Roger Gilabert Guerrero
Author, Annual Review of Applied Linguistics
"We are so grateful for your help—especially all of those rush jobs ! If we ever need a fact checker/finder again, you are the first person I'd call!"
Leah Zennario
IBM
"Thank you very much for your hard work, Teresa. It's been a pleasure working with you."
Madeline Friedman
Institute of International Education
"You did a great job. I was particularly appreciative of your questions to me during the process. A key one was whether I wanted to de-personalize the text or leave it casual. I chose the latter and it is clear now that was the best choice. Perhaps another copyeditor would have just gone ahead and changed it without even asking."
James M. Smith
Author, Meaningful Graphs